Location, Hours and Contacts
Location, Hours and Service Area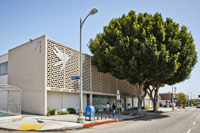 Our Home
Project Angel Food's kitchen and offices are located in our building on renowned Vine Street in the heart of Hollywood, between Santa Monica Boulevard and Melrose Boulevard, at the corner of Barton Avenue and Vine.
Project Angel Food's main office is open from 9:00 a.m. to 5:30 p.m. Monday - Friday.
Our Kitchen operates from 8:00 a.m. to 4:00 p.m. Monday - Friday and 8:00 a.m. to 12:30 p.m. on Sunday.
Our professional kitchen, a former costume design shop, is equipped with the latest equipment and tools, gives us ample expansion capacity as the need for our meal service grows.
Our central location offers easy access to the many volunteers who make our work possible. It also provides our delivery drivers close proximity to freeway arteries, enabling us to efficiently serve clients throughout all 4,700 square miles of Los Angeles County.