Programs & Services
Project Angel Food in Los Angeles County
Volunteers and staff cook and deliver nutritious meals, free of charge, to homes throughout Los Angeles County to alleviate hunger, prevent malnutrition and return our clients to health.
Our Services
As a grassroots agency, we have been a pillar of compassion and nourishment for the critically ill in our community. We deliver delicious, home-style, nutritious, vitamin-robust meals to men, women and children who are too weakened by disease to prepare their own food. Food deliveries are made within Los Angeles County with the knowledge that precious lives are at stake.
Delivery
Clients receive a meal for each day of the week that are freshly-cooked to the person's nutritional needs. The day of the week and time of day that meals are delivered vary with the geographic region where the recipient lives, but deliveries are always made during a consistent four-hour window on a given day.
---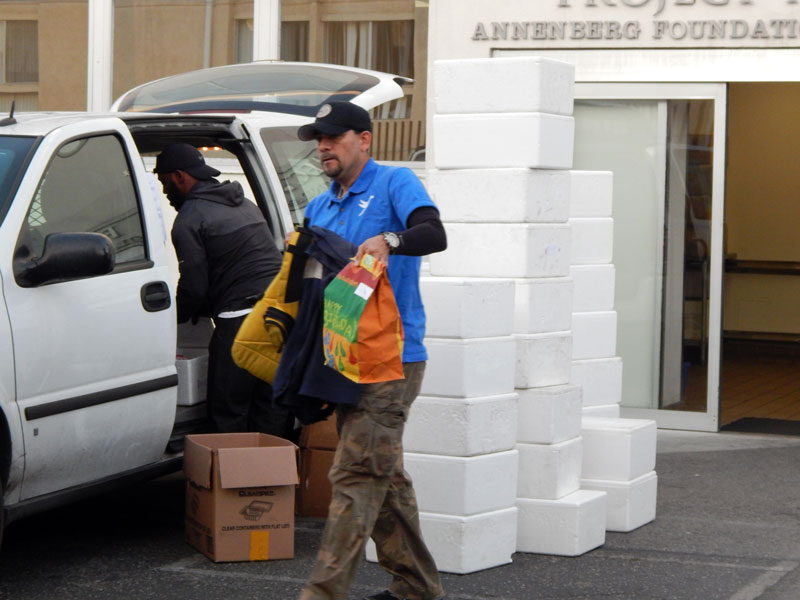 Our Impact
What is also inspiring about the impact we have on our clients' lives is the joy they receive during the visits from a Project Angel Food delivery driver. In many cases, it is the only human interaction a client will have in a day, so the importance of our personal contact cannot be overstated. Our drivers come with delicious, healthy food, warm smiles and kind words, providing hope and human caring to those who need it most.
Food Allergies
Project Angel Food's staff does our best to accommodate clients with a variety of dietary needs, but the meals are not produced in an allergen-free environment. Food prepared in our kitchen may come in contact with wheat, gluten, milk, eggs, soy, peanuts, tree nuts, fish and shellfish. If you have any food allergies, either it's a mild or severe or life-threatening allergy. Please discuss it over with your doctor to determine whether our meals are appropriate for you.