Wish List
Wish List
As you may know, Project Angel Food is a non-profit that serves people who are often homebound, hungry and suffer from critical illness. We provide freshly-cooked, home-delivered meals all across Los Angeles County, and in 2015 served over 2,000 persons who are affected by HIV/AIDS, cancer and other life-threatening illnesses. We have delivered over 10 million meals since our inception in 1989. We act out of a sense of urgency because hunger and illness do not wait.
In addition to delivering meals, we also provide our clients with a very special birthday bag each year. These bags really brighten up our clients' spirits and sadly are often the only remembrance of their special day. Some of the items in birthday bags are candles, t-shirts, coffee, tea, mugs, soaps, lotions, books, candy, picture frames, CDs, DVDs, pens, notepads, toiletries and any seasonal items.
As our focus is on the nutritious and delicious meals we provide for our clients, we must depend on donations to continue to offer the annual birthday bag. If you would like to sponsor a birthday bag click here.
The bags themselves are decorated by volunteers of all ages. Some of the local schools, girls' and boys' clubs, etc., have made the birthday bag decorating part of their school days and programs. Corporations use this volunteer opportunity to allow staff to participate in service projects even when they are not able to serve at off-site locations. Many individual volunteers decorate the birthday bags as a way to stay involved when their schedules don't allow for other volunteer options. This makes for a delightful and fun variety of birthday bag styles.
---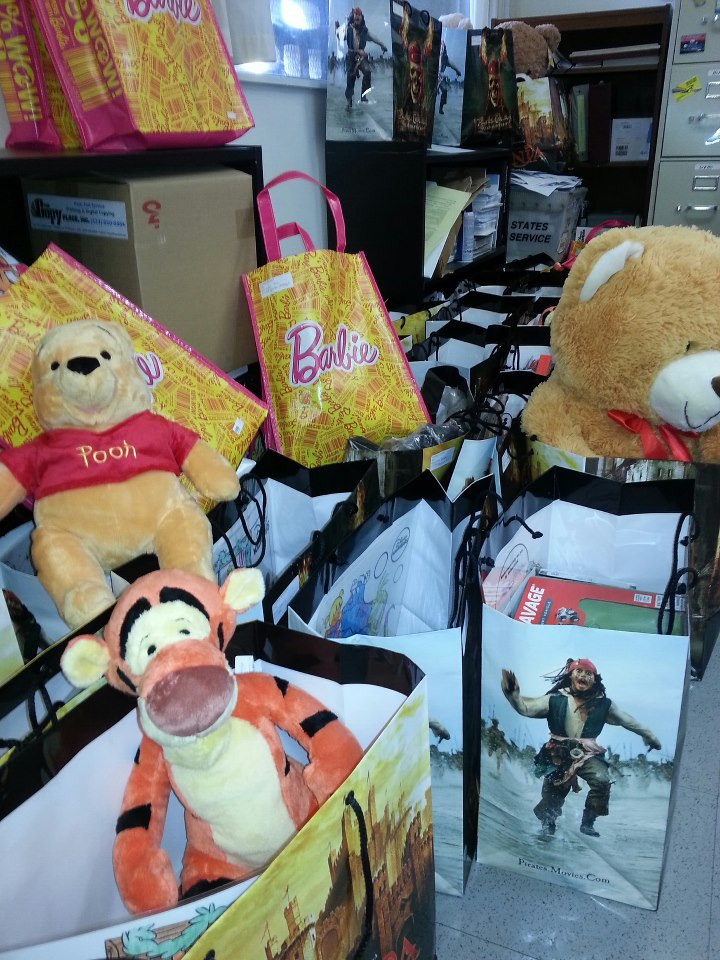 Client Children and the Holidays
Each holiday season Project Angel Food staff and volunteers gather holiday gifts and toys for our clients' children and grandchildren. Ninety percent of Project Angel Food clients live below the poverty limit, so for many of these children the gifts our donors generously provide will be the only holiday gifts they receive.
Our largest donations in 2015 came from Craig Richey, HBO, and Dave & Buster's. Once we have received toys and gifts our volunteers and staff assemble a gift bag for each of our clients' children. Approximately 120 children receive gifts during the holiday season with the age range covering 1 to 17-years-old.
A typical wish list for our client children would be books, DVDs, CDs, gift cards, stuffed animals, tickets for outings such as the aquarium, the theater or Disneyland.