Angel News
Who is volunteering?
Recently we were fortunate to have the ASB (Alternative Spring Break) groups from Vanderbilt University, University of Utah and the University of Arizona share some of their spring break with us at Project Angel Food. They traveled from as far away as Nashville to help out with tasks in our kitchen, making Feed Beads and various other office duties. We rely upon our volunteers and with these young people showing that volunteerism is important to them the future looks pretty good. This is just one of many groups that come through our sliding doors annually. We also have groups that come on a weekly basis.
Kitchen Angels
Project Angel Food's kitchen utilizes more volunteer help than any other portion of our agency. Sunday through Friday corporate groups, student groups, and community driven individuals wake up bright and early to assist in making client meals.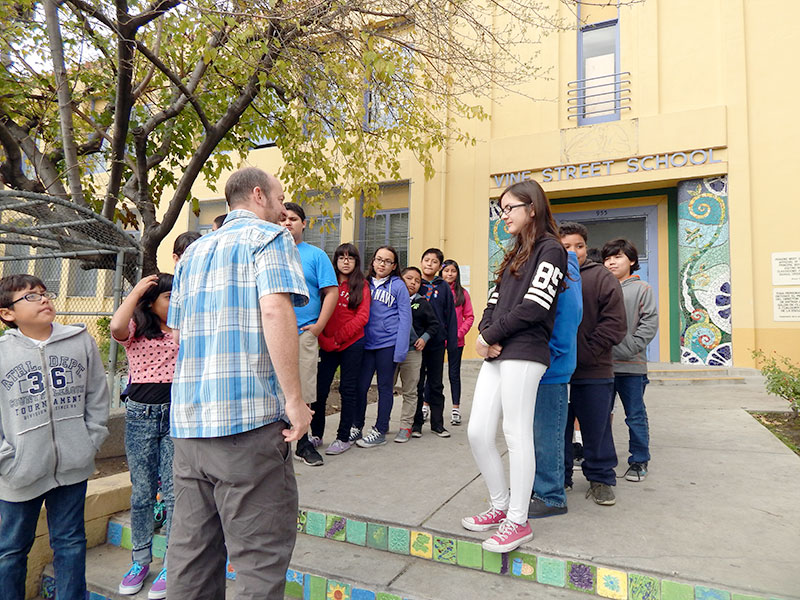 Student Groups
Project Angel Food has had a very special relationship with the classes at Vine Street Elementary school since we moved to Vine Street in 2007. Each Tuesday a class of children walks across the street and assists with a number of needed activities. Whether it is making fruit bags, beading, or decorating client birthday bags, these students are actively participating in our surrounding community. Not only are these kids giving back to the community, they are also learning the importance of volunteerism and how integral a part they play in the giving back and paying forward that so many people rely on.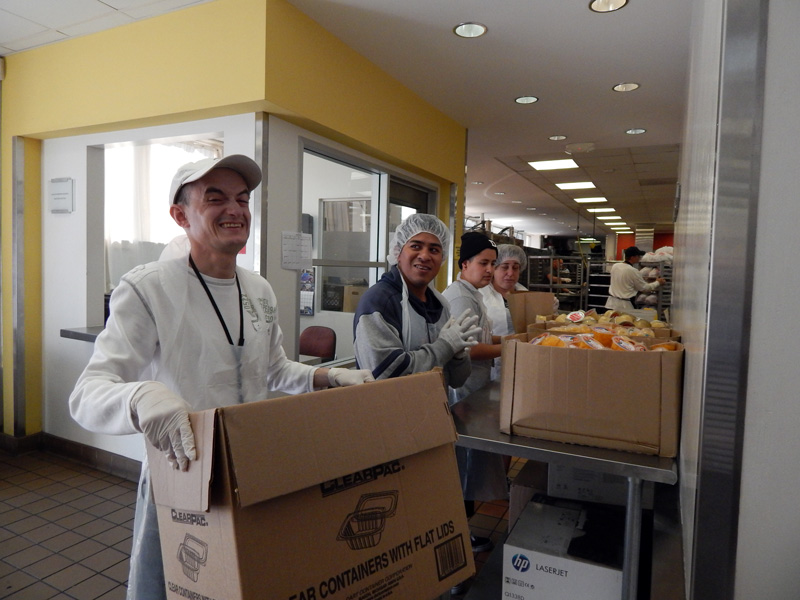 Easter Seals & Lanterman High School
Easter Seals is another very important group that comes to the aid of Los Angeles County's most needy neighbors. Through their adult day program a group pf 10 to 15 special needs adults come to Project Angel Food. Some of these very unique individuals are able to cook and prepare meals and the other group decorates our client birthday bags. Through their Adult Day Program these adults are made to feel important and that they are actively participating in the world around them. These adults are having their lives enhanced by socializing with the people around them, learning vocational skills, and remaining involved in their community.
Lanterman High School located near downtown Los Angeles is another Special Needs program that brings its students to Project Angel Food as part of its Life Skills Learning. As part of this program people ages 15 to 22 learn life skills, such as money management skills, life skills, social interaction, the importance of volunteering and in many cases make friends. Along with volunteering their time with Project Angel Food the Lanterman group works with St. Mary's Girls' College.